Community Re-Enactment Theater: Easy Rock Pilot Episode 1
from
#NHV
on
Vimeo
.
Associated Stations
BooSlick
- The Boo Slick Show, featuring Jahmal Henderson AKA Boo Slick
Katterbear
- Excellent Time Lapses, including the Blizzard 2013 which got 20k views.
News Stations
NewHavenIndependent
-
Local Newspaper's YouTube® channel
Paul Bass - Editor of Independent
WTNH-8
-
Local ABC Affiliate
Organizations
Yale University - official YouTube® page
ArtSpace
-
Local Arts
SiteProjects
-
film fest hosts
Chatham Square - happenings in a Fair Haven neighborhood.
East Rock Media - videos from East Rock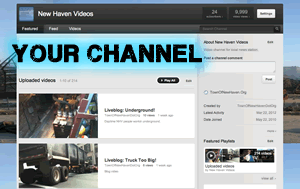 Do you make videos?
Would you like to share your videos with the #NHV community? Just say so and we will list it on our new list of Community Stations.
It's easy, just fill out the form below and your channel will be listed on the main "Your Channel" page.
Fill Out This Form and
Get Added!
Official Stations contain different content. All contain original content.
| | |
| --- | --- |
| | |
| Vimeo.Com/Nhv | YouTube.Com/NhvOrg |